Pricing Strategy Consulting Services and Organizational Change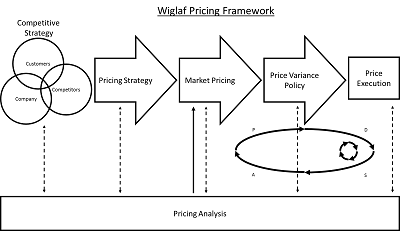 One-Sheet Overview of Strategic Consulting for Organizational Change
As many executives have experienced, ad hoc pricing decisions too often leave money on the table.  Executives need a reliable process for consistently making good pricing decisions concerning both list prices and transactional prices.  To deliver the reliability, transparency, and confidence needed in pricing decisions, firms are implementing organizational changes to develop pricing strength.
Developing a pricing organization requires defining the people, processes, and tools.
Wiglaf Pricing works with senior executives to identify the required pricing organizational developments to unlock the profit potential of better pricing practices.
We clarify needed organization changes, quantify the value that can be captured with an organizational change, and identify the size of the pricing organization required to capture that value profitably.
We quantify the expected return on investment for implementing the recommended strategic changes.
We define the pricing organizational structure and clarify its reporting structure to senior managers and the needed interfaces with other departments to ensure a constructive relationship between the pricing team and sales, marketing, finance, and operations.
We define the roles and responsibilities of the team members within the imminent pricing organization.
We define the required routines and technology to successfully achieve the potential value created through better pricing.
The result of a Wiglaf Pricing strategic consulting engagement is a roadmap for building the firm's pricing organization that improves pricing decisions systematically, effectively, and efficiently.