Strategic Price Segmentation Services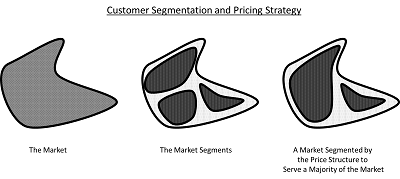 One-Sheet Overview of Price Setting Productized Services
Executives who interact and manage customers know that no two customers are alike. Different customers value the firm's offerings differently. Different customers have different costs to serve. And therefore, different customers need and deserve different prices.
With a good price-segmentation strategy, a firm can serve more customers and earn higher profits. With a poor price-segmentation strategy, the firm's market may suffer from price contagion, where the segmentation hedge is leaky, the most profitable customers demand a deeply discounted price, and a price that was extended under special circumstances to a specific customer segment becomes the new norm for the firm's market.
Wiglaf Pricing works with executives to define the most appropriate price-segmentation strategy.
We conduct market research to uncover the drivers to value within the market in developing the market driven side of a firm's price-segmentation strategy.
We conduct internal research to reveal the drivers to cost within the firm that are customer-dependent in developing the profit alignment of a firm's price-segmentation strategy.
We identify objective and enforceable segmentation hedges.
We develop transition strategies to enable the firm to move towards a more rational price-segmentation policy.
The result of a Wiglaf Pricing price-segmentation engagement is an understanding of value and cost drivers for profitable price segmentation.