Transactional Pricing Strategic Services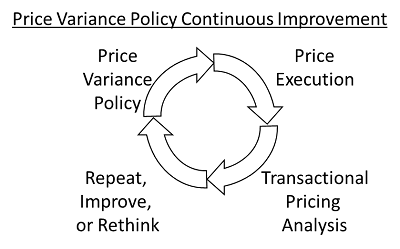 One-Sheet Overview of Productized Services in Discount- and Price-Variance Management
As simple thought experiments typically demonstrate, no other lever has as much impact on profitability as the firm's ability to capture a good price. Finance and other executives seeking to improve margins and profitability know that good pricing, more than cost and productivity improvements, is key.
Unfortunately, finance and other executives often experience deal prices with a negative price variance below the expected price. Managing deal prices requires transparency, reliability, and rationality in deal price decisions. It also requires a positive relationship between finance and sales/marketing to go beyond a blueprint solution and deliver implemented results that all agree are in the firm's best interest.
Wiglaf Pricing works with finance and other executives to improve the transparency, reliability, and rationality in deal pricing.
We analyze transactional data to uncover drivers to price variances and potential sources of pricing errors.
We develop quantitative tools to enable sales and marketing executives to communicate the value the firm delivers.
We clarify needed organizational changes in people, process, and tools to ensure that the gains from improved deal pricing continue to propel the firm forward.
The result of Wiglaf Pricing's CFO Advisory Services is a better understanding of the drivers to deal-price variances and a reduction in deal-pricing errors – all delivered with a clear vision for ensuring a constructive relationship between finance and other executive team members.