Upcoming Events
Best Practices in Product Management: Building Insanely Great Products – Axentys Consulting Group
Sept 29, 2017
8:00 AM – 5:30 PM
Chicago Marriott Oak Brook
1401 22nd St
Oak Brook, IL 60523
Join us for a day of great product management training run by Axentys Consulting Group, where Wiglaf Pricing will be leading an hour on pricing and product strategy.
This is a perfect event for product leaders, business development, and sales professionals. This event is also a unique opportunity for business professionals to network with a wide range of professionals from the same field or other industries but sharing the same passion of becoming the best informed in their field.
General topics include:
What features make a product INSANELY successful?
What competencies are critical for a successful product launch?
Do's and don'ts for product managers: Lessons learned the hard way
Understand pricing and pricing strategies
What is the practical meaning of operational excellence?
Financial concepts and decisions for product leaders and marketers
Cost effective Product Portfolio Strategies
Register now using code "TS25" for a special discount!
7th Annual Medical Device Pricing and Strategic Accounts Conference – Q1 Productions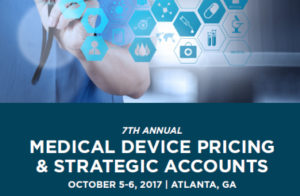 October 5-6, 2017 in Atlanta, GA. Learn more.
Wiglaf Pricing is pleased to be a sponsor of the 7th Annual Medical Device Pricing and Strategic Accounts Conference organized by Q1 Productions.
It is a dynamic time in the history of the medical device industry, and your strategy must be up to date in order to excel. Join us for two days of great discussion on the focus on outcomes and value, the impact of outside forces including provider and payer consolidation, and much more.
Executives from the medical device industry that will find this meeting of greatest application are those involved in setting medical technology prices and managing strategic accounts for both large and small medical technology corporations. Tracked presentations will ensure skills development in pricing methodologies as well as strategic account and customer management, providing an unrivaled opportunity to sharpen skills. Job titles of participants most applicable to the program include:
Pricing & Strategic Pricing
Strategic & Corporate Accounts
Executive Sales Leadership
Corporate Marketing Teams
Finance & Pricing Analysts
Register now! Use code WIGLAF for a special discount.
PPS 28th Annual Fall Pricing Workshops & Conference

October 24-27, 2017, at the Hilton San Diego Bayfront Hotel. See details here!
PPS 13th Annual European & Global Pricing Workshops and Conference

December 6-8, 2017, in Barcelona, Spain. Here Tim J. Smith, PhD, CEO of Wiglaf Pricing, speak on Pricing and Corporate Strategy. See details here!