Upcoming Events
Chicagoland Pricing Professionals Network – August 2018, Hosted by the Coleman Entrepreneurship Center at DePaul University

Wed, July 18, 2017 5:30 PM – 8:30 PM CDT
Coleman Entrepreneurship Center, DePaul University
1 East Jackson Blvd, Suite 7900
Chicago, IL 60604
Join the Chicagoland Pricing Professionals Network at the Coleman Entrepreneurship Center for conversation and refreshments! This is a great opportunity to help you learn from pricing experts and your peers about the latest in pricing and how things are done in other organizations. Here's what you can expect:
30 minute talk on the latest teaching topics in the world of pricing
30 minute talk from Jeni Christoffersen, pricing leader at Cardinal Health
60 minutes of networking and refreshments with Chicagoland Pricing Professionals
Our featured speakers will be:
Jeni Christoffersen
Director, Pricing Strategy and Analytics, Medical Segment at Cardinal Health
At Cardinal Health, Jeni and her team drive incremental net profit via market-based strategies and channel-specific tactics for product families, distribution/ logistics services, and kitting services for the company's medical business unit. She seeks to build enterprise pricing discipline and raise capabilities with the right tools, processes, and organizational change management. Jeni has worked in a number of companies in pricing, sourcing, and corporate finance capacities. Jeni obtained her MBA from Indiana University in Bloomington, Indiana.
Timothy J. Smith, PhD
Founder and CEO, Wiglaf Pricing
Adjunct Professor of Marketing, DePaul University
At Wiglaf Pricing, Dr. Smith is helping executives manage price better through consulting, workshops, books, and other media. He provides productized and actionable consulting services for firms of many sizes and across many industries. He has been a keynote speaker and workshop leader on a variety of pricing topics to professional audiences across the globe. Along with his work at Wiglaf and teaching at DePaul, he is the author of Pricing Done Right (Wiley 2016) and Pricing Strategy (Cengage 2012) and editor of the Wiglaf Journal.
Event supporters include:
You will meet pricing professionals, pricing recruiters, pricing consultants, and pricing software providers, as well as peers in sales, marketing, finance, and more.
All are welcome!
PPS 29th Annual Fall Pricing Workshops & Conference


October 23-26, 2018 in Dallas, TX. See additional details, and check back soon for additional information!
PPS 14th Annual European & Global Pricing Workshops and Conference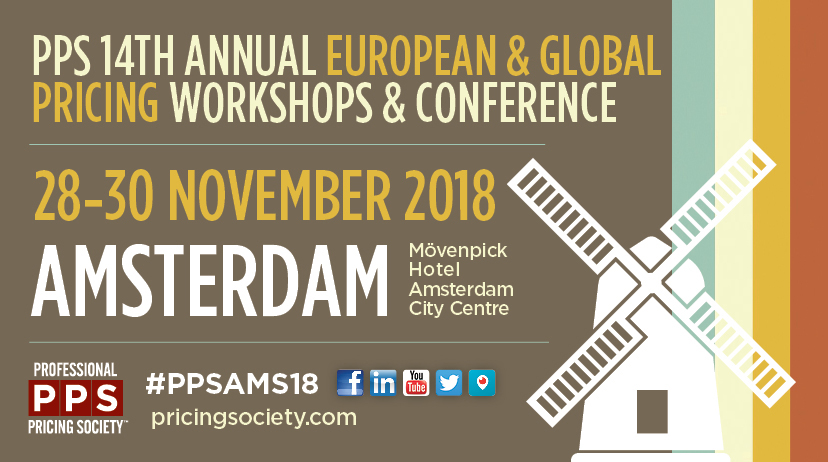 November 28-30, 2018 in Amsterdam, The Netherlands. See additional details, and check back soon for additional information!