Chicagoland Pricing Professionals Network, July 2022
July 20, 2022 @ 11:30 am

-

1:30 pm

$45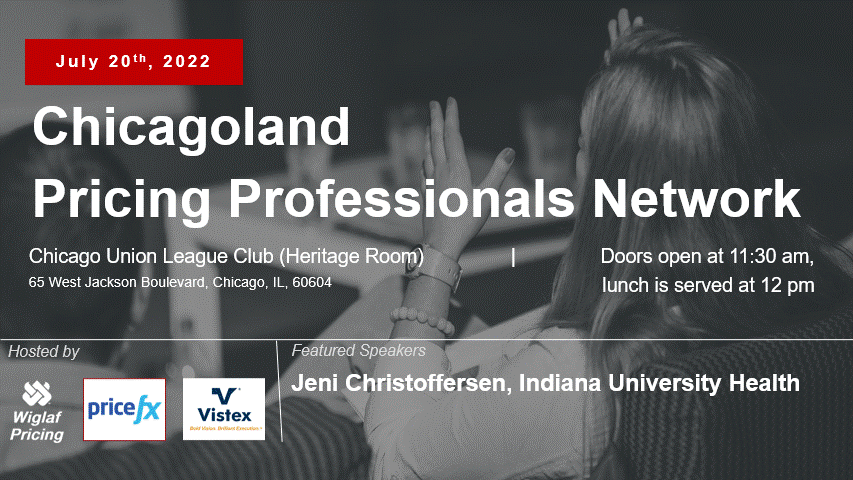 Join the Chicagoland Pricing Professionals Network for conversation, a meal, and a pricing presentation!
About this event
Join the Chicagoland Pricing Professionals Network for conversation and a business lunch on Wednesday, July 20th! This is a great opportunity to help you learn from pricing experts and your peers about the latest in pricing and how things are done in other organizations.
We are offering free tickets to select attendees. Contact [email protected] to see if you qualify for free tickets. General admission ticket sales end at 11 AM on Tuesday, July 12th.
Here's what you can expect:
Doors open at 11:30 am
Lunch is served at 12 pm. Attendees will have a business lunch with choice of chicken or vegetarian
Shortly after lunch is served, there will be a 45-minute pricing talk, followed by Q&A
Approximately 75 minutes of networking (with an open bar!) with Chicagoland Pricing Professionals
Afterwards, conversations can continue over libations at one of the many on-site watering holes
You will meet pricing professionals, pricing recruiters, pricing consultants, and pricing software providers, as well as peers in sales, marketing, finance, and more.
All are welcome!
The event will be in the Heritage Room at the Union League Club of Chicago. A relaxed, well-dressed look described as "Smart Casual" is welcomed throughout the club. Smart Casual may include jeans, denim, and collar-less shirts.
Attendees are encouraged to use SpotHero to reserve their parking beforehand: https://spothero.com/
Masks and proof of vaccination are not required at the Union League Club of Chicago at this time, though this could change before our event. The Union League Club of Chicago will follow all city and state guidelines.
Featured Speakers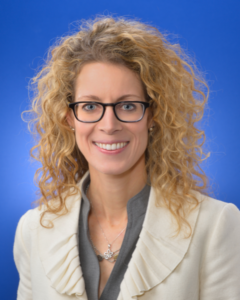 Jeni Christoffersen
Executive Director, Revenue Cycle Services, Indiana University Health
Jeni joined IU Health's Revenue Cycle Services in Nov 2018 as Executive Director, Operational Excellence and Partnerships. In this role she leads the central services team supporting the Revenue Cycle with strategic planning, vendor contract management, operating budget management, business integrations, internal business partnering, and team member experience. She also serves as the Chief of Staff for the Chief Revenue Officer (CRO).
Prior to joining IU Health, Jeni served as Director of Strategic Pricing and Analytics in Cardinal Health's Medical Business Unit. She also held a variety of roles at Eli Lilly and Company in Global Strategic Pricing, Market Access, Corporate Finance, and Global Procurement.
Jeni has a BA degree in International Marketing with a minor in Japanese culture and language from Ball State University. She earned an MBA at Indiana University with dual majors in Corporate Finance and Operations & Decisions Technology. Jeni is on the advisory board for the IU Well House Society and a board member of St Vincent de Paul Society Indianapolis. In her free time Jeni enjoys barre ballet, yoga, completing achievements in Toast Masters International, cultivating a vertical plant wall, and consuming books on personal health/wellness, business excellence, and pricing strategy.
Sponsors

Pricefx is the global leader in holistic price optimization, management, and realization software. Our platform is the only 100% Cloud Native SaaS solution that is fast to implement, flexible to configure, and friendly to buy, learn, and use.

Manage critical business programs, like pricing, incentives, rebates, and claims, for unprecedented visibility into performance so you can drive revenue, improve margins, and control costs.
Wiglaf Pricing is a boutique consultancy for your organization's pricing strategy. Executives seek out Wiglaf Pricing to make core pricing decisions in the face of uncertainty. We deliver results that matter. Wiglaf Pricing is Helping Executives Manage Price Better.™