The New Invisible Hand: Five Revolutions in the Digital Economy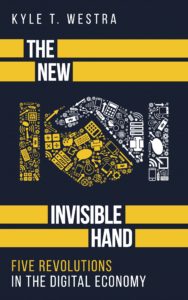 Kyle T. Westra
ISBN-10: 1641372648
ISBN-13: 978-1641372640
394 Pages, Paperback
New Degree Press
©2019

Synopsis
More than 50% of small businesses fail in their first four years. At the same time, the lifespan of large companies is shrinking. Markets are facing unprecedented disruption. But contrary to popular belief, the Digital Revolution is opening up more, not fewer, areas for companies to serve customer needs profitably.
The New Invisible Hand presents a framework for thriving in this new digital world. Inside the book you'll learn how:
* Five technological revolutions (reintermediation, monetization, transparency, channel, and data) are shaping markets, industries, and individual companies
* With the right framework, companies can take advantage of new opportunities and react to competitive threats
* Conventional wisdom about middlemen, price transparency, and monetization models is mistaken
* Innovative companies are seizing the opportunity to better solve their customers' needs
This book is for you if you've ever struggled to understand how your company should react to different competitive threats enabled by changing technology. You'll learn how five technological revolutions are upturning entire industries and determining new winners and losers in the marketplace.
The revolutions of reintermediation, monetization, transparency, channel, and data are the forces that determine who gets what, when, where, how… and at what price. For companies, this represents heretofore unseen levels of peril, but also promise. For customers, this represents an intensified battle to serve their needs best.
While we cannot control these five revolutions, we can choose to see our reality as one of opportunity, rather than crisis. Good companies can survive despite them. Great companies can thrive because of them.
The New Invisible Hand features many companies that are doing just that.
Select Praise for The New Invisible Hand
The New Invisible Hand is essential reading, full of great content for understanding how to succeed in the economy of today and tomorrow. Kyle T. Westra has done an outstanding job."
– Mitch Golub, founder and former president, Cars.com
"Kyle T. Westra's work is a must-read for any executive who wants to grasp the challenges and opportunities of the digital economy."
– Reuben Jeffery III, former CEO of Rockefeller Financial Services, Inc., and former U.S. under secretary of state
"The New Invisible Hand persuasively demonstrates how digital disruption is an opportunity for companies to serve customers better."
– Scott Case, founding CTO, Priceline, and co-founder and president, Upside Travel
"Kyle T. Westra has written an amazing piece, providing a framework for understanding the technological revolutions disrupting entire industries."
– Tanvi Paharia, senior manager, global strategic pricing, Starbucks
"Kyle T. Westra has succinctly summarized revolutionary new pricing strategies, using stories from companies you will recognize and empathize with. If you want to stay ahead of the dynamic pricing revolution, it's a must-read."
– Alexander Shartsis, co-founder and CEO, Perfect Price
"The New Invisible Hand is a refreshing investigation into how businesses can avoid both complacency and panic in the face of digitization. It is striking in its astute selection of selection of critical decisions and in how applicable the suggestions are."
– Stella Penso, former senior director of revenue and margin management, Careem
"The New Invisible Hand provides great insights not only for executives in corporate strategy, but also for those in SaaS companies who enable their customers to build for growth. Its solid framework facilitates critical business strategy conversations and helps organizations redefine themselves in a digitally disruptive age."
– Lynn Nguyen, senior principal, marquee customer success, MuleSoft
"Kyle T. Westra incisively demonstrates how key technological revolutions are opening up new ways for companies to create value. The New Invisible Hand is full of compelling examples of companies taking advantage of these trends, as well as cautionary tales for businesses falling into complacency."
– Cheng Gao, assistant professor of strategy, University of Michigan, Ross School of Business
"Data is the new currency of today's economy, and Kyle T. Westra provides the knowledge needed to succeed in a data-centric world."
– Daryn Nakhuda, founder and CEO of Mighty AI
"In this ambitious book, Kyle T. Westra reveals how companies can harness the forces of the Digital Revolution to delight customers and increase profitability."
– Shep Hyken, customer service/experience expert and New York Times bestselling author