Engage Wiglaf Pricing.
Make Better Pricing Decisions.
Executives choose Wiglaf Pricing to identify launch prices for new products and services, define price structures to profitably segment markets, conduct deep-dive pricing analytics, improve price variance management, and develop organizational capabilities through people, processes, and tools.
We deliver help through:
Upcoming Events
7th Annual Medical Device Pricing and Strategic Accounts Conference – Q1 Productions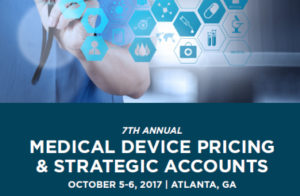 October 5-6, 2017 in Atlanta, GA. Learn more.
Wiglaf Pricing is pleased to be a sponsor of the 7th Annual Medical Device Pricing and Strategic Accounts Conference organized by Q1 Productions.
It is a dynamic time in the history of the medical device industry, and your strategy must be up to date in order to excel. Join us for two days of great discussion on the focus on outcomes and value, the impact of outside forces including provider and payer consolidation, and much more.
Executives from the medical device industry that will find this meeting of greatest application are those involved in setting medical technology prices and managing strategic accounts for both large and small medical technology corporations. Tracked presentations will ensure skills development in pricing methodologies as well as strategic account and customer management, providing an unrivaled opportunity to sharpen skills. Job titles of participants most applicable to the program include:
Pricing & Strategic Pricing
Strategic & Corporate Accounts
Executive Sales Leadership
Corporate Marketing Teams
Finance & Pricing Analysts
Register now! Use code WIGLAF for a special discount.
PPS 28th Annual Fall Pricing Workshops & Conference

October 24-27, 2017, at the Hilton San Diego Bayfront Hotel. See details here!
Featuring a workshop by Tim J. Smith, PhD, entitled "Pricing and Corporate Strategy".
In Pricing and Corporate Strategy, Tim J. Smith, PhD will share how leading firms are integrating different pricing and price management techniques throughout the corporation to maximize both growth and profitability.  We will discuss the culture, structure, and process for getting pricing done right.  Pricing and Corporate Strategy will clarify the areas where technology can accelerate progress and where managerial judgement calls are fundamentally required.
This workshop applies concepts from the fields of economics, consumer behavior, business selling, product lifecycles, and competitive dynamics in order to provide executives with a well-rounded view of pricing in business markets.  Executives attending this course will be able to identify routes to improve their pricing practices and avoid traps leading to pricing disasters.
Digital Pricing Summit

November 29 – December 01 in Berlin, Germany. Learn more.
Join Tim J. Smith, PhD, of Wiglaf Pricing as he presents on SaaS, DaaS, and IaaS Pricing. Attendees will learn:
How to identify the right metrics and price segmentation hedges for defining the price structure
Differences between bundling, versioning, tiering, and add-on pricing
Why user-role overrides use-case in pricing
How pricing mindsets for entrepreneurial firms differ from those typically found in large corporations
Visit the website to learn more about this exciting agenda!
PPS 13th Annual European & Global Pricing Workshops and Conference

December 6-8, 2017, in Barcelona, Spain. See details here!